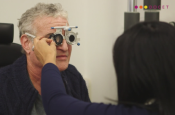 CET Ref: C-56711
CET Points:
CET Type:
Closing Date: 1 October 2018
In this programme experts look at how to adapt the routine eye check when examining elderly patients including communication, ocular examination and refraction. It provides guidance on techniques to use and how best to modify an examination to ensure that elderly patients get the highest level of care and their individual needs are addressed.
Topics: Communication, Ocular examination, Refraction, Binocular vision, Charts, Pupils, Visual fields, Legal, Visual assessment, Retinoscopy, Ophthalmoscopy, LogMAR, Contrast sensitivity.