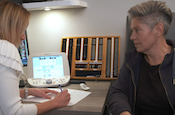 CET Ref: C-74033
CET Points:
CET Type:
Closing Date: 1 December 2020

The fourth and final part of Dry Eye Disease: The Complete Picture includes the second unit on treatment of DED as recommended in the TFOS DEWS ll report. It covers the use of prescription drugs to manage DED including those available to IP optometrists, surgical interventions and patient adherence.
Topics: Ocular surface disease, TFOS DEWS II, Dry eye, Tears, Homeostasis, Osmolarity, Meibomian glands, MGD, Blepharitis, Lids, Drugs, Antibiotics, Punctal plugs, Adherence, COM-B.