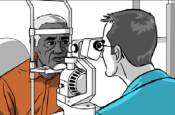 No CPD Points

This course provides optometrists with instructions on managing patients presenting with acute onset symptoms in two key areas:
Sudden loss of vision
The painful red eye
It covers the presentation of each condition, what to look for during examination, differential diagnosis, referral steps, further clinical management and any red flag symptoms requiring immediate referral.
Topics: Ischaemic, Optic neuropathy, Retinal artery occlusion, Retinal vein occlusion, Haemorrhage, Ameurosis fugax, Posterior eye, Referral, Treatment, Acute, Anterior uveitis, Glaucoma, Keratitis, CLARE, Contact lenses, Scleritis, Trauma, Cellulitis, Referral, Anterior eye, Ocular disease.
Area of interest: MECS, Anterior eye conditions and acute presentations, Newly qualified, Acute presentation series.