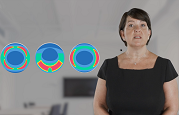 CET Ref: C-58607
CET Points:
CET Type: Non-interactive
Closing Date: 2 December 2019
The course is split into two parts. The first part covers the skills required to examine and fit astigmatic patients with contact lenses and looks at two patients, the first fitted with soft toric contact lenses and the second with rigid gas permeable (RGP) contact lenses.

Topics: Astigmatism, Soft toric lenses, RGP lenses, Slit lamp, Toric, Aftercare, Bitoric, Gas permeable, Keratometry, Contact lenses.