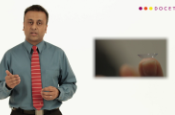 CET Refs: C-55088 (non-interactive) and C-55259 (interactive - expired June 2018)
CET Points:
One point for non-interactive

CET Type: Non- interactive
Closing Date: 18 December 2019

This is the first module of a new series on contact lenses covering the core skills required to examine patients to assess their suitability for contact lenses, to fit a range of RGP and soft lenses and to conduct successful patient aftercare. Expert presenters discuss and demonstrate the techniques and a series of videos provide 'on eye' images, that a practitioner would see on the slit lamp. This programme is particularly suitable for those new or returning to contact lens fitting.
Topics: Contact lenses, Slit lamp, RGP, Rigid gas permeable, Soft, Tear assessment, Dry eye, Record keeping, Grading scales, Keratometry.