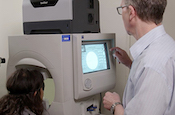 CET Ref: C-76651
CET Points:
CET Type: Non-interactive
Closing Date: 30 June 2021


The fifth part of the glaucoma programme looks at how to accurately assess the visual field to identify important signs of glaucoma. It then looks at national and local refinement and referral pathways and discusses how to reach the appropriate clinical decision when managing a glaucoma suspect, taking into account all your investigation.
Topics: Glaucoma, NICE, SIGN, POAG, COAG, CAG, Ocular hypertension, Laser treatment, Surgical treatment, Pharmacological treatments, Management, Referral, MIGS, SLT.